By submitting this form, I give OurChurch.Com permission to send me communication by email.
As I wrote in the first article in this series, the number one reason church websites fail the free reviews we provide is due to problems with images. In fact 70% of the websites we review have some problems with images.
Here are the 7 most common problems we see with website photos and how to fix them.
1) Missing Photos
Problem – Either the URL of the image was entered incorrectly or the image was deleted after the page was published.
Solution – Fix the URL, replace the image, or delete the image reference in the web page.
2) Blurry Photos
Problem – The photo is out of focus or the subject was moving when it was taken. We're all for "authenticity," but you can do better than that.
Solution – Replace the blurry photo with one that's in focus.
3) Overly Dark or Light Photos
Problem – The lighting for the photo was bad and the subject can't be seen well because it's either too dark or too light.
Solution – Replace the photo with one that has better lighting.
4) Tiny Photos
Problem – Putting a small photo in a much larger content area just looks awkward.
Solution – There are several better options. 1) Use photos that are the full width of the content area, 2) put 2 or more smaller photos side by side (just make sure they are the same height), or 3) wrap text around the image.
5) Pixelated Photos
Problem – Images look pixilated when a small photo is stretched into a much larger space.
Solution – Don't use tiny images. Replace the pixilated image with one that is the same size of the space it's being inserted into.
6) Scrunched Photos
Problem – When an image is forced into a space that is does not have the same proportions as the image itself, the image will get squeezed horizontally or vertically. We see this most often in image sliders.
Solution – First, don't use portrait oriented images in landscape spaces. Second, crop images so they are the same size as the space or image slider in which you're placing them. You can use an online image editing tool like pixlr.com to do this.
7) Animated GIFs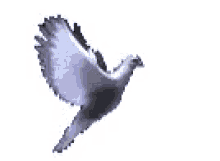 Problem – Not exactly a "photo" problem, but it IS an image problem. Please let the fluttering flags, flapping doves, and spinning crosses rest in peace in the 90s.
Solution – Delete them. Please. (I realize animated GIF memes have become popular. There's a place for them in some blog posts, social media and texting friends, but leave them off your web pages)
When an organization allows photos with these problems to linger on their website, it gives website visitors the impression the people in your church are either clueless or they don't care. So…
Fix your website's image problems before they give your church an image problem.
If you'd like a FREE professional review of your website that includes a review of your photos, you can request one here. (No strings attached, I promise.)
And if you'd like to build a church website using our super-easy DIY church website builder, click the link and get started.
Post a comment and tell us… do you have any of these photo problems to fix?